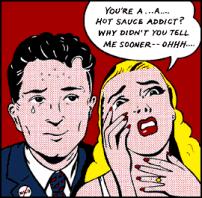 If you know me, you know that I like food, especially HOT, SPICY Mexican food. If you are like me, you can find all sorts of great things to satisfy your addiction at Mo Hotta-Mo Betta. You can also get lots of cool shirts and stuff.

They also have recipies online.

Hey, with names like "Scorned Woman," "Dave's Insanity Sauce," "Mad Dog Inferno," and "Slap my Ass and Call me Sally," how can you possibly go wrong? :-)

I must warn you though, you can hurt yourself with some of the hot sauces, so beware. But, if you just can't seem to find spice anywhere you go, the stuff in here can get you breathing fire really quickly. Wahoo!